Details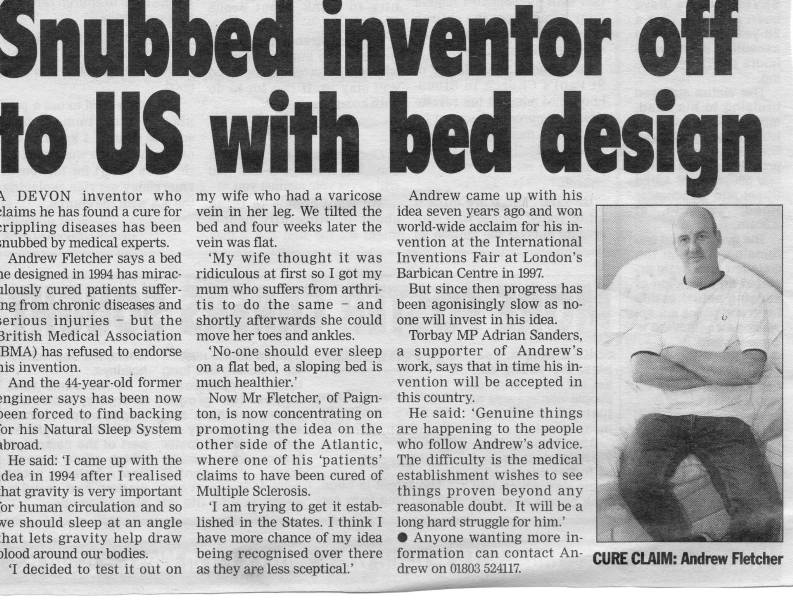 Snubbed inventor off to US with bed design
DEVON inventor who claims he has found a cure for crippling diseases has been snubbed by medical experts.
Andrew Fletcher says a bed he designed in 1994 has miraculously cured patients sufferng from chronic diseases and serious injuries - but the British Medical Association BMA) has refused to endorse his invention.
And the 44-year-old former engineer says has been now been forced to find backing or his Natural Sleep System abroad.
He said: 'I came up with the idea in 1994 after I realised hat gravity is very important or human circulation and so we should sleep at an angle hat lets gravity help draw blood around our bodies.
'I decided to test it out on my wife who had a varicose vein in her leg. We tilted the bed and four weeks later the vein was flat.
'My wife thought it was ridiculous at first so I got my mum who suffers from arthritis to do the same - and shortly afterwards she could move her toes and ankles.
'No-one should ever sleep on a flat bed, a sloping bed is much healthier.'
Now Mr Fletcher, of Paignton, is now concentrating on promoting the idea on the other side of the Atlantic, where one of his 'patients' claims to have been cured of Multiple Sclerosis.
'I am trying to get it established in the States. I think I have more chance of my idea being recognised over there as they are less sceptical.'
Andrew came up with his idea seven years ago and won world-wide acclaim for his invention at the International Inventions Fair at London's Barbican Centre in 1997.
But since then progress has been agonisingly slow as no-one will invest in his idea.
Torbay MP Adrian Sanders, a supporter of Andrew's work, says that in time his invention will be accepted in this country.
He said: 'Genuine things are happening to the people who follow Andrew's advice. The difficulty is the medical establishment wishes to see things proven beyond any reasonable doubt. It will be a long hard struggle for him.' •
CURE CLAIM: Andrew Fletcher
Add a comment
Details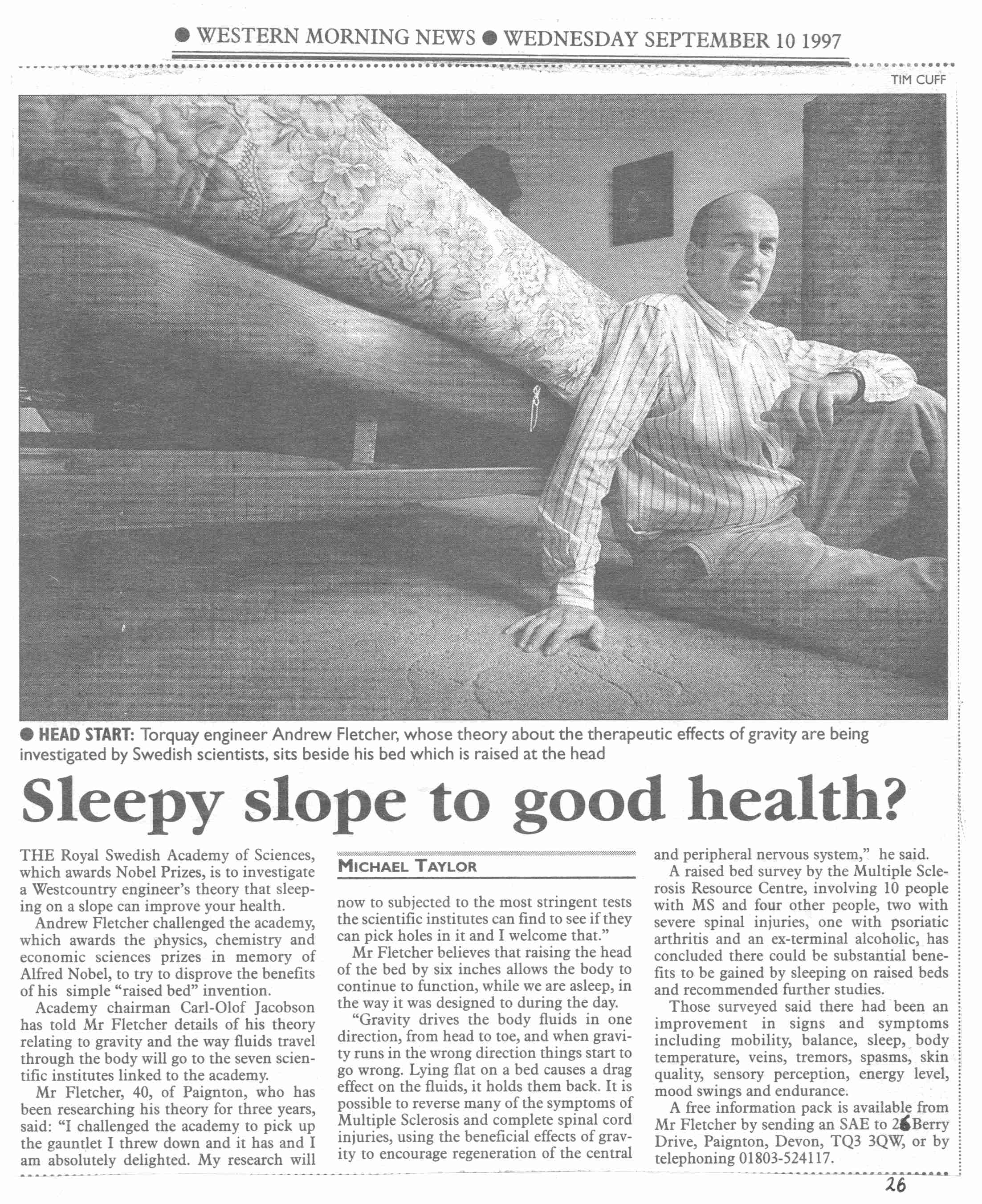 WESTERN MORNING NEWS • WEDNESDAY SEPTEMBER 10 1997
TIM CUFF
Sleepy slope to good health?
• HEAD START: Torquay engineer Andrew Fletcher, whose theory about the therapeutic effects of gravity are being investigated by Swedish scientists, sits beside his bed which is raised at the head
THE Royal Swedish Academy of Sciences, which awards Nobel Prizes, is to investigate a Westcountry engineer's theory that sleeping on a slope can improve your health.
Andrew Fletcher challenged the academy, which awards the physics, chemistry and economic sciences prizes in memory of Alfred Nobel, to try to disprove the benefits of his simple "raised bed" invention. Academy chairman Carl-Olof Jacobson has told Mr Fletcher details of his theory relating to gravity and the way fluids travel through the body will go to the seven scientific institutes linked to the academy. Mr Fletcher, 40, of Paignton, who has been researching his theory for three years, said: "I challenged the academy to pick up the gauntlet I threw down and it has and I am absolutely delighted. My research will now to subjected to the most stringent tests the scientific institutes can find to see if they can pick holes in it and I welcome that."
Mr Fletcher believes that raising the head of the bed by six inches allows the body to continue to function, while we are asleep, in the way it was designed to during the day. "Gravity drives the body fluids in one direction, from head to toe, and when gravity runs in the wrong direction things start to go wrong. Lying flat on a bed causes a drag effect on the fluids, it holds them back. It is possible to reverse many of the symptoms of Multiple Sclerosis and complete spinal cord injuries, using the beneficial effects of gravity to encourage regeneration of the central
and peripheral nervous system," he said. A raised bed survey by the Multiple Sclerosis Resource Centre, involving 10 people with MS and four other people, two with severe spinal injuries, one with psoriatic arthritis and an ex-terminal alcoholic, has concluded there could be substantial benefits to be gained by sleeping on raised beds and recommended further studies.
Those surveyed said there had been an improvement in signs and symptoms including mobility, balance, sleep, body temperature, veins, tremors, spasms, skin quality, sensory perception, energy level, mood swings and endurance.
by MICHAEL TAYLOR
Add a comment
Details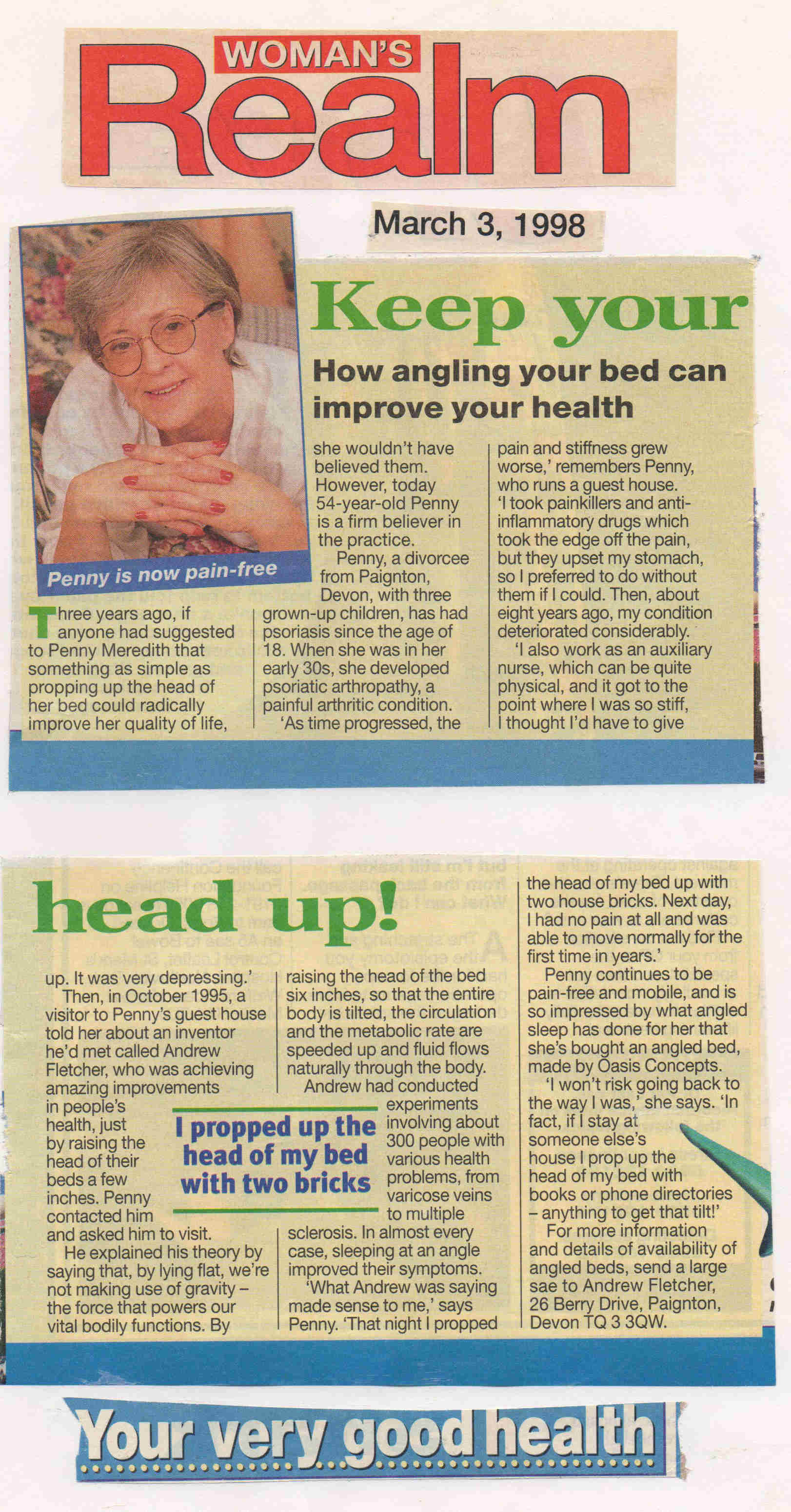 Keep Your Head Up
How angling your bed can improve your health
Three years ago, if anyone had suggested to Penny Meredith that something as simple as propping up the head of her bed could radically improve her quality of life, she wouldn't have believed them. However, today 54-year-old Penny is a firm believer in the practice. Penny, a divorcee from Paignton, Devon, with three grown-up children, has had psoriasis since the age of 18. When she was in her early 30s, she developed psoriatic arthropathy, a painful arthritic condition. 'As time progressed, the pain and stiffness grew worse,' remembers Penny, who runs a guest house. 'I took painkillers and anti-inflammatory drugs which took the edge off the pain, but they upset my stomach, so I preferred to do without them if I could. Then, about eight years ago, my condition deteriorated considerably.
'I also work as an auxiliary nurse, which can be quite physical, and it got to the point where I was so stiff, I thought I'd have to give up. It was very depressing.' Then, in October 1995, a visitor to Penny's guest house told her about an inventor he'd met called Andrew Fletcher, who was achieving amazing improvements in people's health, just by raising the head of their beds a few inches. Penny contacted him and asked him to visit.
He explained his theory by saying that, by lying flat, we're not making use of gravity -the force that powers our vital bodily functions. By raising the head of the bed six inches, so that the entire body is tilted, the circulation and the metabolic rate are speeded up and fluid flows naturally through the body. Andrew had conducted _____ experiments
involving about 300 people with various health problems, from varicose veins to multiple sclerosis. In almost every case, sleeping at an angle improved their symptoms.
'What Andrew was saying made sense to me,' says Penny. That night I propped the head of my bed up with two house bricks. Next day, I had no pain at all and was able to move normally for the first time in years.'
Penny continues to be pain-free and mobile, and is so impressed by what angled sleep has done for her that she's bought an angled bed, made by Oasis Concepts.
'I won't risk going back to the way I was,' she says. 'In fact, if I stay at someone else's house I prop up the head of my bed with books or phone directories - anything to get that tilt!' Penny is now pain free.
Add a comment
Details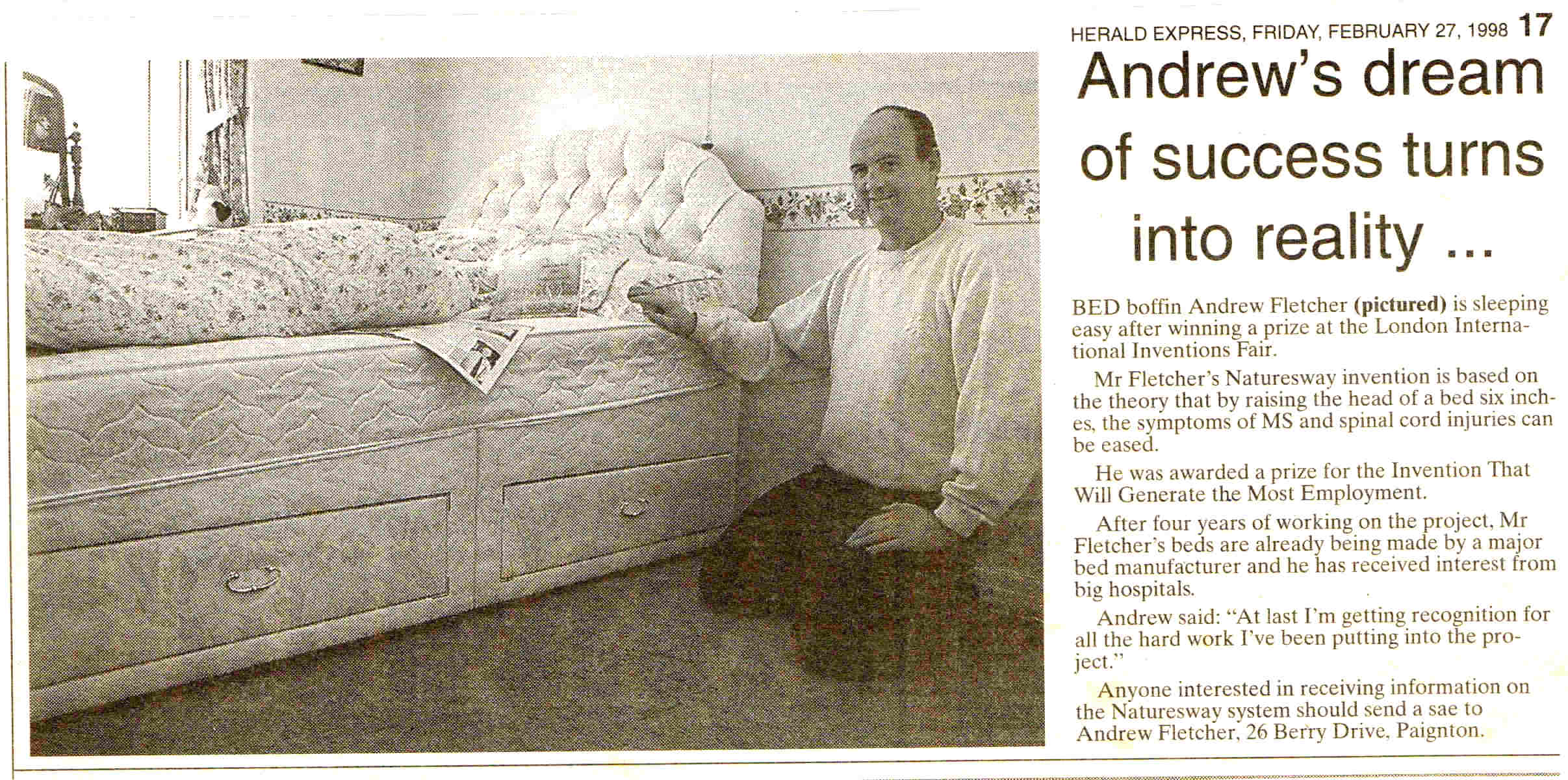 HERALD EXPRESS, FRIDAY, FEBRUARY 27, 1998 17
Andrew's dream of success turns into reality ...
BED boffin Andrew Fletcher (pictured) is sleeping easy after winning a prize at the London International Inventions Fair.
Mr Fletcher's Naturesway invention is based on the theory that by raising trie head of a bed six inches, the symptoms of MS and spinal cord injuries can be eased.
He was awarded a prize for the Invention Thai Will Generate the Most Employment.
After four years of working on the project, Mr Fletcher's beds are already being made by a major bed manufacturer and he has received interest from big hospitals.
Andrew said: "At last I'm getting recognition for all the hard work I've been putting into the project."
Add a comment
Details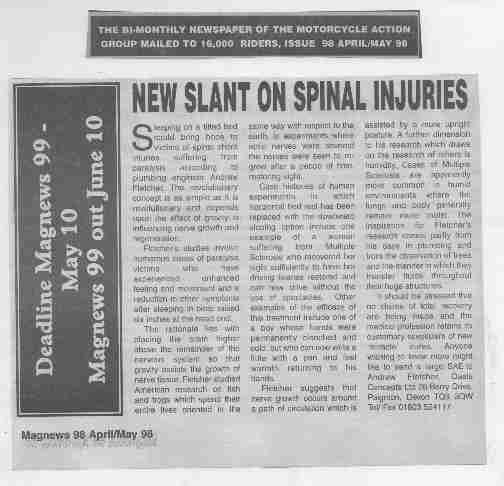 THE BI-MONTHLY NEWSPAPER OF THE MOTORCYCLE ACTION GROUP MAILED TO 16,000 RIDERS, ISSUE 98 APRIL/MAY 98
New Slant On Spinal Cord Injuries
Sleeping on a tilted bed could bring hope to victims of spinal chord injuries suffering from paralysis according to plumbing engineer Andrew Fletcher. The revolutionary concept is as simple as it is revolutionary and depends upon the effect of gravity in influencing nerve growth and regeneration.
Fletcher's studies involve numerous cases of paralysis victims who have experienced enhanced feeling and movement and a reduction in other symptoms after sleeping in beds raised six inches at the head end.
The rationale lies with placing the brain higher above the remainder of the nervous system so that gravity assists the growth of nerve tissue. Fletcher studied American research on fish and frogs which spend their entire lives oriented in the
same way with respect to the earth. In experiments where optic nerves were severed the nerves were seen to re-grow after a period of time, restoring sight.
Case histories of human experiments in which horizontal bed rest has been replaced with the downward sloping option include one example of a woman suffering from Multiple Sclerosis who recovered her sight sufficiently to have her driving license restored and can now drive without the use of spectacles. Other examples of the efficacy of this treatment include one of a boy whose hands were permanently clenched and cold, but who can now write a little with a pen and feel warmth returning to his hands.
Fletcher suggests that nerve growth occurs around a path of circulation which is assisted by a more upright posture. A further dimension to his research which draws on the research of others is humidity. Cases of Multiple Sclerosis are apparently more common in humid environments where the lungs and body generally remain more moist. The inspiration for Fletcher's research comes partly from his days in plumbing and from the observation of trees and the manner in which they transfer fluids throughout their huge structures.
It should be stressed that no claims of total recovery are being made and the medical profession retains its customary scepticism of new 'miracle' cures.
Magnews 98 April/May 98
Add a comment
Details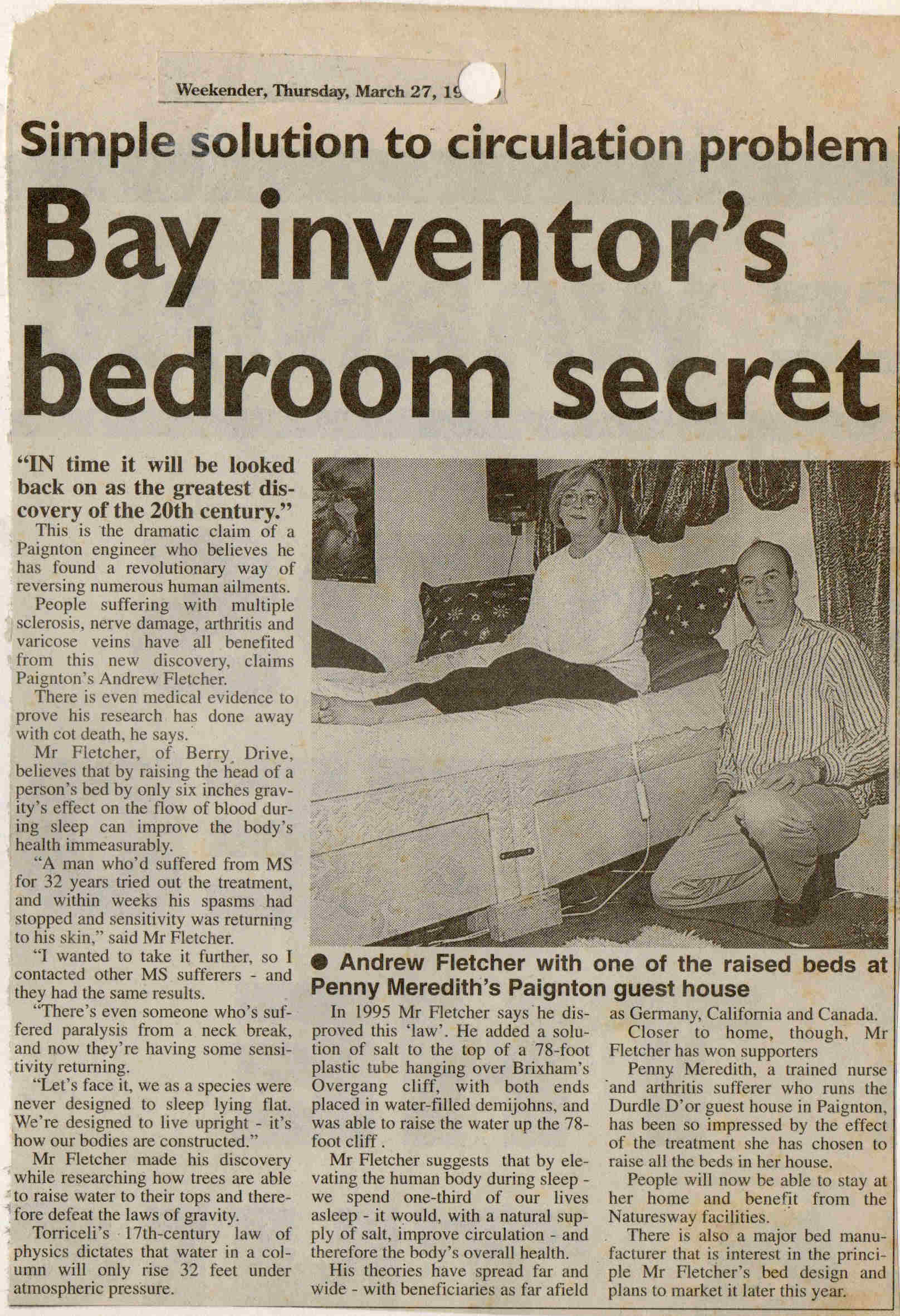 Torbay Weekender, Thursday, March 27 1996,
Simple solution to circulation problem
Bay inventor's bedroom secret
"IN time it will be looked back on as the greatest discovery of the 20th century."
This is the dramatic claim of a Paignton engineer who believes he has found a revolutionary way of reversing numerous human ailments.
People suffering with multiple sclerosis, nerve damage, arthritis and varicose veins have all benefited from this new discovery, claims Paignton's Andrew Fletcher.
There is even medical evidence to prove his research has done away with cot death, he says.
Mr Fletcher, of Berry Drive, believes that by raising the head of a person's bed by only six inches gravity's effect on the flow of blood during sleep can improve the body's health immeasurably.
"A man who'd suffered from MS for 32 years tried out the treatment, and within weeks his spasms had stopped and sensitivity was returning to his skin," said Mr Fletcher.
"I wanted to take it further, so I contacted other MS sufferers - and they had the same results.
"There's even someone who's suffered paralysis from a neck break, and now they're having some sensitivity returning.
"Let's face it, we as a species were never designed to sleep lying flat. We're designed to live upright - it's how our bodies are constructed."
Mr Fletcher made his discovery while researching how trees are able to raise water to their tops and therefore defeat the laws of gravity.
Torriceli's 17th-century law of physics dictates that water in a column will only rise 32 feet under atmospheric pressure.
Penny Meredith's Paignton
In 1995 Mr Fletcher says he disproved this 'law'. He added a solution of salt to the top of a 78-foot plastic tube hanging over Brixham's Overgang cliff, with both ends placed in water-filled demijohns, and was able to raise the water up the 78-foot cliff.
Mr Fletcher suggests that by elevating the human body during sleep -we spend one-third of our lives asleep - it would, with a natural supply of salt, improve circulation - and therefore the body's overall health.
His theories have spread far and wide - with beneficiaries as far afield as Germany, California and Canada.
Closer to home, though, Mr Fletcher has won supporters: Penny Meredith, a trained nurse and arthritis sufferer who runs (he Durdle D'or guest house in Paignton, has been so impressed by the effect of the treatment she has chosen to raise all the beds in her house.
People will now be able to stay at her home and benefit from the Naturesway facilities.
There is also a major bed manufacturer that is interest in the principle Mr Fletcher's bed design and plans to market it later this year.
Pictured: Andrew Fletcher and Penny Meredith with one of the raised beds at Penny's guest house
Add a comment
Details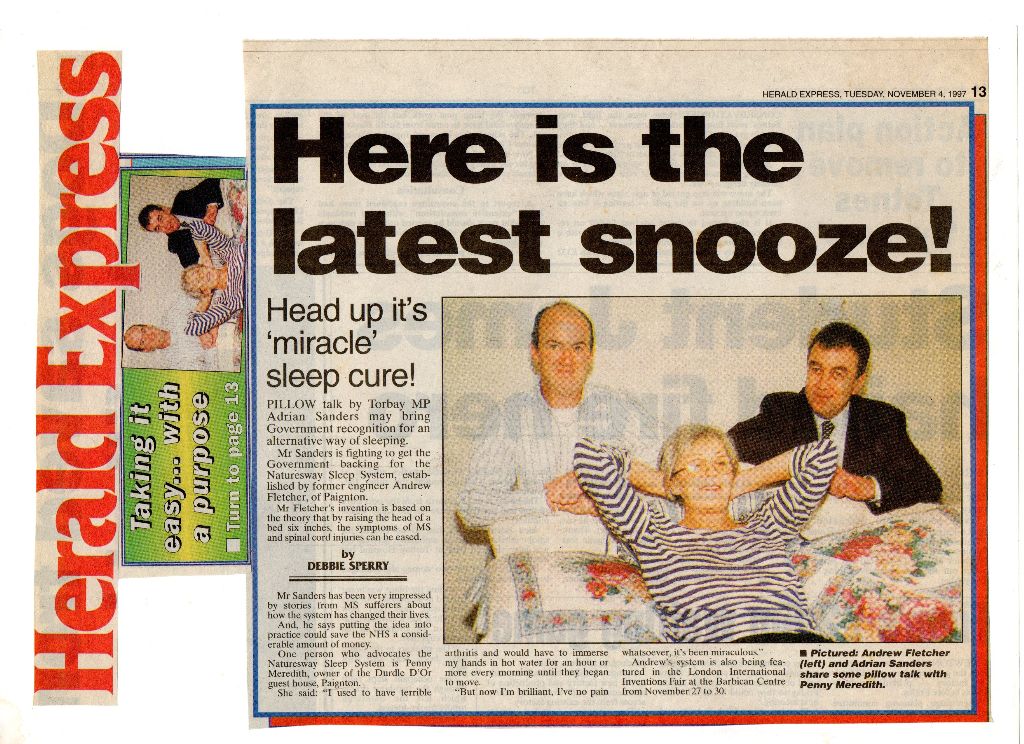 HERALD EXPRESS, TUESDAY, NOVEMBER 4, 1997 13
Here is the latest snooze!
Head up it's 'miracle' sleep cure!
• Pictured: Andrew Fletcher (left) and Adrian Sanders MP share some pillow talk with Penny Meredith.
PILLOW talk by Torbay MP Adrian Sanders may bring Government recognition for an alternative way of sleeping.
Mr Sanders is fighting to get the Government backing for the Naturesway Sleep System, established by former engineer Andrew Fletcher, of
Paignton.

Mr Fletcher's invention is based on the theory that by raising the head of a bed six inches, the symptoms of MS and spinal cord injuries can be
eased.

Mr Sanders has been very impressed by stories from MS sufferers about how the system has changed their lives.
And, he says putting the idea into practice could save the NHS a considerable amount of money.
One person who advocates the Naturesway Sleep System is Penny Meredith, owner of the Durdle D'Or guest house, Paignton.
She said: "I used to have terrible arthritis and immerse my hands in hot water for an hour or more every morning until they began to move.
But now I am brilliant, I've no pain whatsoever, it's been mirraculous."

Andrew's system is also being featured at the London International Inventions Fair at the Barbican Centre from Novement 27th to the 30th.

by DEBBIE SPERRY

Penny's condition is psoriatic arthritis.

Add a comment
Details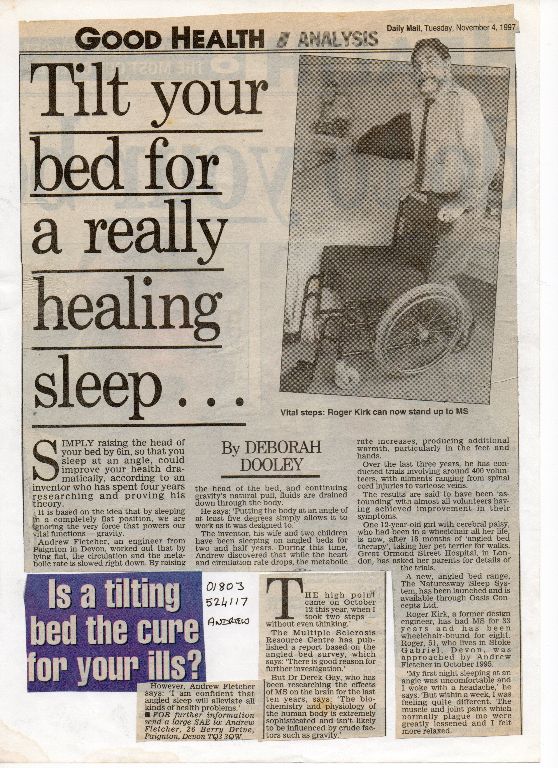 HEALTH
Tilt your bed for a really healing sleep... Daily Mail, Tuesday, November 4,1997
Vital steps: Roger Kirk can now stand up to MS
SIMPLY raising the head of your bed by Gin, so that you sleep at an angle, could improve your health dramatically, according to an inventor who has spent four years researching and proving his theory.
It is based on the idea that by sleeping in a completely flat position, we are Ignoring the very force that powers our vital functions — gravity.
Andrew Fletcher, an engineer from Paignton in Devon, worked out that by lying flat, the circulation and the metabolic rate is slowed right down. By raising the head of the bed, and continuing gravity's natural pull, fluids are drained down through the body.

He says: 'Putting the body at an angle of at least five degrees simply allows it to work as it was designed to.'
The inventor, his wife and two children have been sleeping on angled beds for two and half years. During this time, Andrew discovered that while the heart and circulation rate drops, the metabolic rate increases, producing additional warmth, particularly in the feet and hands.

Over the last three years, he has conducted trials involving around 400 volunteers, with ailments ranging from spinal cord injuries to varicose veins. The results are said to have been 'astounding' with almost all volunteers having achieved improvement in their symptoms.
One 12-year-old girl with cerebral palsy, who had been in a wheelchair all her life, is now, after 18 months of 'angled bed therapy', taking her pet terrier for walks. Great Ormond Street Hospital, in London, has asked her parents for details of the trials.

However, Andrew Fletcher says: 'I am confident that angled sleep will alleviate all kinds of health problems.' •
The high point came on October 12 this year, when I took two steps — without even thinking.'
The Multiple Sclerosis Resource Centre has published a report based on the angled bed survey, which says: 'There is good reason for further investigation.' Raised Bed Survey
But Dr Derek Gay, who has been researching the effects of MS on the brain for the last ten years, says: "The biochemistry and physiology of the human body is extremely sophisticated and isn't likely to be influenced by crude factors such as gravity.'

Roger Kirk, a former design engineer, has had MS for 33 years and has been wheelchair-bound for eight. Roger, 51, who lives in Stoke Gabriel, Devon, was approached by Andrew Fletcher in October 1995.
'My first night sleeping at an angle was uncomfortable and I woke with a headache,' he says. 'But within a week, I was feeling quite different. The muscle and joint pains which normally plague me were greatly lessened and I felt more relaxed.
Add a comment
Details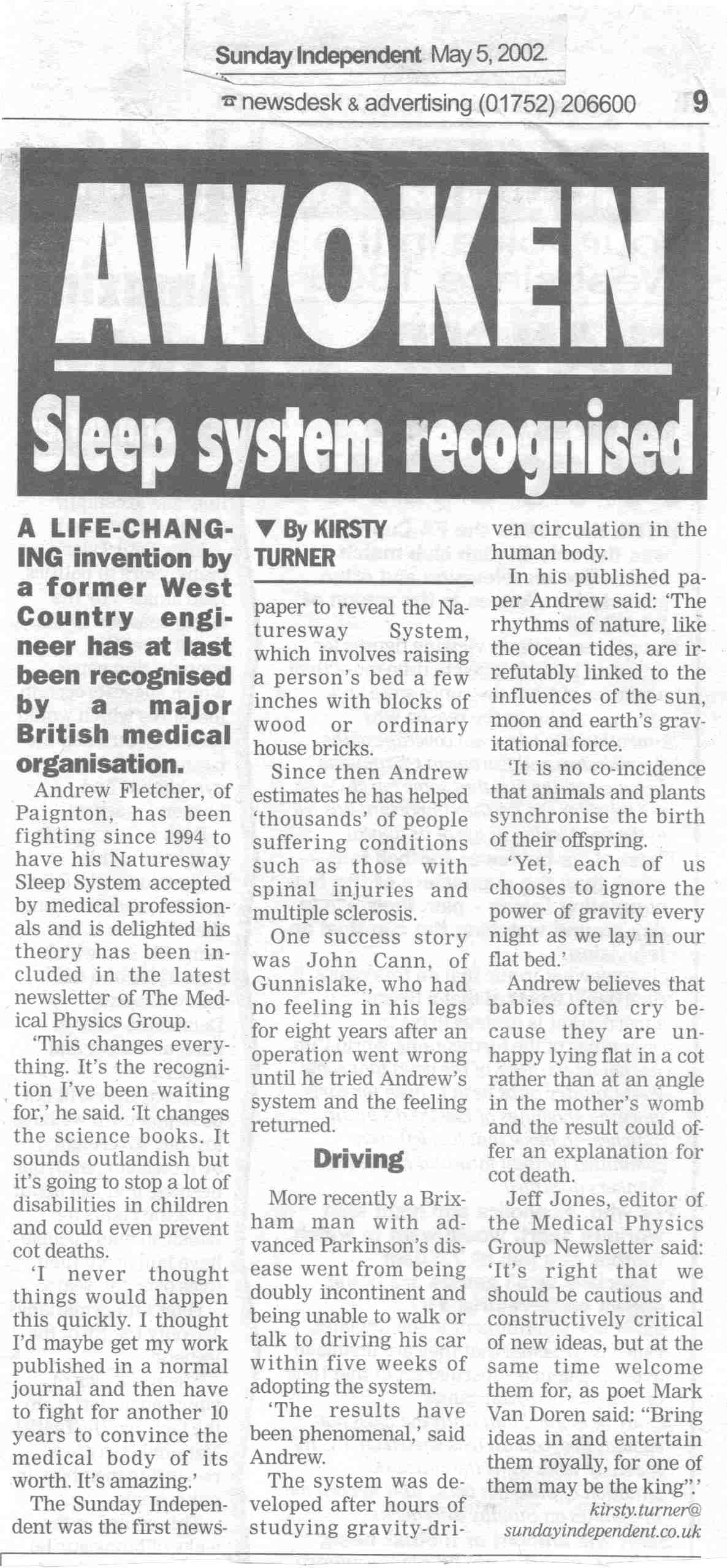 AWOKEN Sleep system recognised
A LIFE-CHANG­ING invention by a former West Country engineer has at last been recognised by a major British medical organisation.
Andrew Fletcher, of Paignton, has been fighting since 1994 to have his Naturesway Sleep System accepted by medical professionals and is delighted his theory has been in­cluded in the latest newsletter of The Med­ical Physics Group.
'This changes everything. It's the recognition I've been waiting for,' he said. 'It changes the science books. It sounds outlandish but it's going to stop a lot of disabilities in children and could even prevent cot deaths.

'I never thought things would happen this quickly. I thought I'd maybe get my work published in a normal journal and then have to fight for another 10 years to convince the medical body of its worth. It's amazing.'
The Sunday Independent was the first news paper to reveal the Naturesway System, which involves raising a person's bed a few inches with blocks of wood or ordinary house bricks.
Since then Andrew estimates he has helped 'thousands' of people suffering conditions such as those with spinal injuries and multiple sclerosis.
One success story was John Cann, of Gunnislake, who had no feeling in his legs for eight years after an operation went wrong until he tried Andrew's system and the feeling returned.

Driving

More recently a Brixham man with advanced Parkinson's disease went from being doubly incontinent and being unable to walk or talk to driving his car within five weeks of adopting the system.
'The results have been phenomenal,' said Andrew.
The system was developed after hours of studying gravity driven circulation in the human body. In his published paper Andrew said: 'The rhythms of nature, like the ocean tides, are irrefutably linked to the influences of the sun, moon and earth's gravitational force.
'It is no co-incidence that animals and plants synchronise the birth of their offspring.'Yet, each of us chooses to ignore the power of gravity every night as we lay in our flatbed.'
Andrew believes that babies often cry because they are unhappy lying flat in a cot rather than at an angle in the mother's womb and the result could of­fer an explanation for cot death.
Jeff Jones, editor of the Medical Physics Group Newsletter said: 'It's right that we should be cautious and constructively critical of new ideas, but at the same time welcome them for, as poet Mark Van Doren said: "Bring ideas in and entertain them royally, for one of them may be the king".' By KIRSTY TURNER kirsty.turner©
http://sundayindependent.co.uk
Add a comment