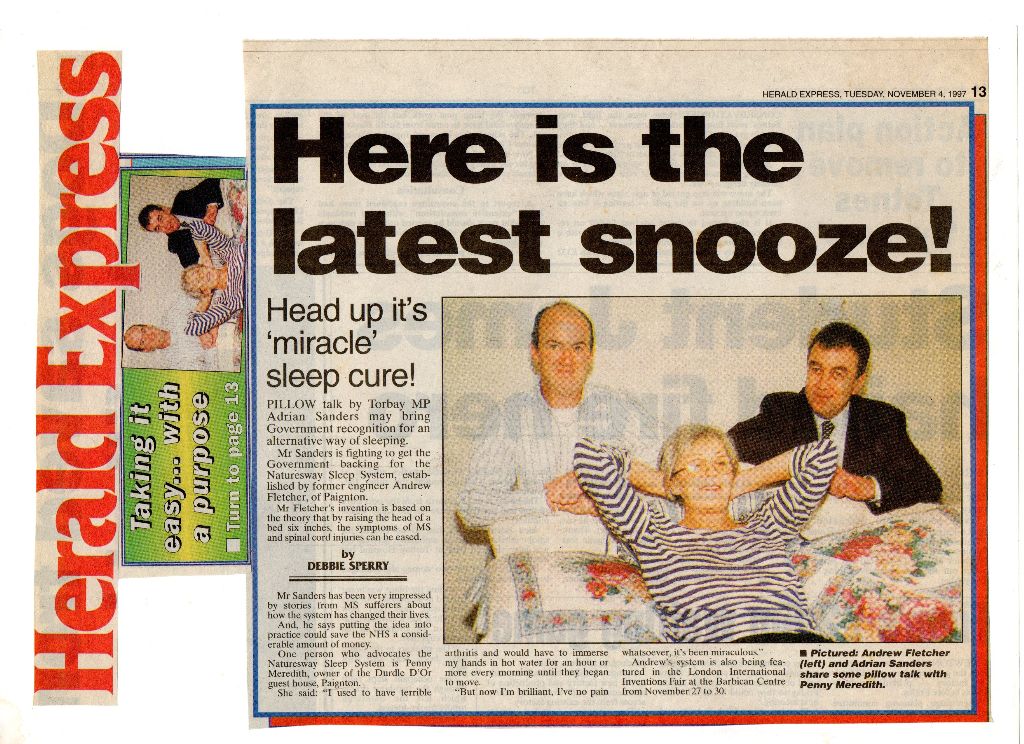 HERALD EXPRESS, TUESDAY, NOVEMBER 4, 1997 13
Here is the latest snooze!
Head up it's 'miracle' sleep cure!
• Pictured: Andrew Fletcher (left) and Adrian Sanders MP share some pillow talk with Penny Meredith.
PILLOW talk by Torbay MP Adrian Sanders may bring Government recognition for an alternative way of sleeping.
Mr Sanders is fighting to get the Government backing for the Naturesway Sleep System, established by former engineer Andrew Fletcher, of
Paignton.

Mr Fletcher's invention is based on the theory that by raising the head of a bed six inches, the symptoms of MS and spinal cord injuries can be
eased.

Mr Sanders has been very impressed by stories from MS sufferers about how the system has changed their lives.
And, he says putting the idea into practice could save the NHS a considerable amount of money.
One person who advocates the Naturesway Sleep System is Penny Meredith, owner of the Durdle D'Or guest house, Paignton.
She said: "I used to have terrible arthritis and immerse my hands in hot water for an hour or more every morning until they began to move.
But now I am brilliant, I've no pain whatsoever, it's been mirraculous."

Andrew's system is also being featured at the London International Inventions Fair at the Barbican Centre from Novement 27th to the 30th.

by DEBBIE SPERRY

Penny's condition is psoriatic arthritis.