AWOKEN Sleep system recognised
Details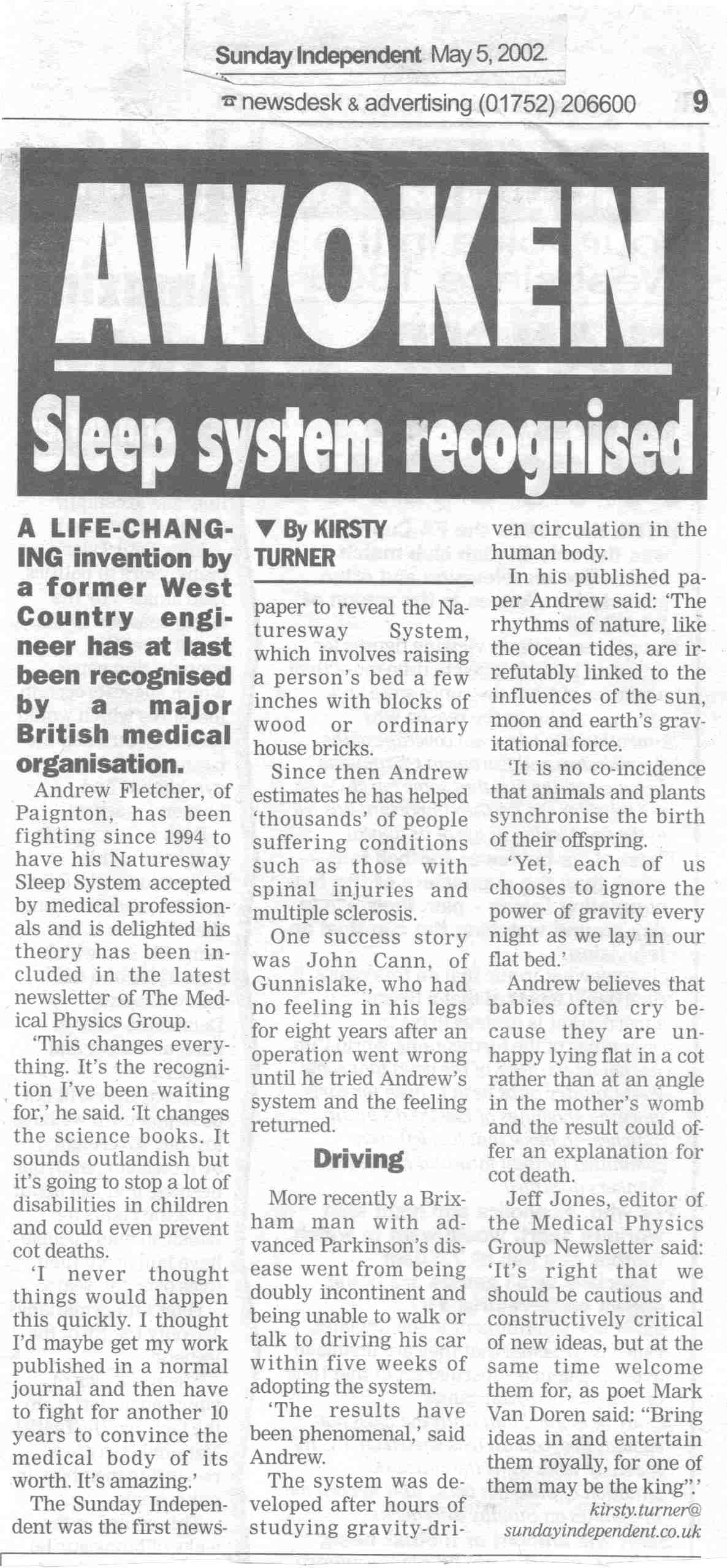 AWOKEN Sleep system recognised
A LIFE-CHANG­ING invention by a former West Country engineer has at last been recognised by a major British medical organisation.
Andrew Fletcher, of Paignton, has been fighting since 1994 to have his Naturesway Sleep System accepted by medical professionals and is delighted his theory has been in­cluded in the latest newsletter of The Med­ical Physics Group.
'This changes everything. It's the recognition I've been waiting for,' he said. 'It changes the science books. It sounds outlandish but it's going to stop a lot of disabilities in children and could even prevent cot deaths.

'I never thought things would happen this quickly. I thought I'd maybe get my work published in a normal journal and then have to fight for another 10 years to convince the medical body of its worth. It's amazing.'
The Sunday Independent was the first news paper to reveal the Naturesway System, which involves raising a person's bed a few inches with blocks of wood or ordinary house bricks.
Since then Andrew estimates he has helped 'thousands' of people suffering conditions such as those with spinal injuries and multiple sclerosis.
One success story was John Cann, of Gunnislake, who had no feeling in his legs for eight years after an operation went wrong until he tried Andrew's system and the feeling returned.

Driving

More recently a Brixham man with advanced Parkinson's disease went from being doubly incontinent and being unable to walk or talk to driving his car within five weeks of adopting the system.
'The results have been phenomenal,' said Andrew.
The system was developed after hours of studying gravity driven circulation in the human body. In his published paper Andrew said: 'The rhythms of nature, like the ocean tides, are irrefutably linked to the influences of the sun, moon and earth's gravitational force.
'It is no co-incidence that animals and plants synchronise the birth of their offspring.'Yet, each of us chooses to ignore the power of gravity every night as we lay in our flatbed.'
Andrew believes that babies often cry because they are unhappy lying flat in a cot rather than at an angle in the mother's womb and the result could of­fer an explanation for cot death.
Jeff Jones, editor of the Medical Physics Group Newsletter said: 'It's right that we should be cautious and constructively critical of new ideas, but at the same time welcome them for, as poet Mark Van Doren said: "Bring ideas in and entertain them royally, for one of them may be the king".' By KIRSTY TURNER kirsty.turner©
http://sundayindependent.co.uk