Raising the head end of a patients bed will protect them from pneumonia and respiratory and circulatory collapse! Laying a patient horizontally will without doubt, accelerate their demise! 5 degree angle is necessary, additional pillows will help, but not so much as having the bed tilted. https://www.getreading.co.uk/news/local-news/tilted-beds-help-cut-pneumonia-4207612 More information https://inclinedbedtherapy.com
Stupidity:
"Ask when you can start moving around. Lying flat on your back for a long time can increase your risk of developing pneumonia. So find out when it's safe for you to start sitting up and walking around.?" When you realise that sleeping flat might not be a smart move?
Sureley this is self evident and flat bedrest should be avoided like the virus itself?
https://www.webmd.com/lung/pneumonia-reducing-your-risk


Tilted beds help cut cases of pneumonia by up to 60% #coronavirus
An innovative method for preventing pneumonia in patients has been recognised at a national awards ceremony
Royal Berkshire NHS Foundation Trust won Patient Safety prize at the Health Service Journal Awards, held at Grosvenor House Hotel in London on November 15, in recognition of its campaign to ensure all patients have their beds tilted by 30 degrees.
In October 2010, the patient safety team implemented the scheme across eight wards to see if it would reduce the number of patients who developed the illness during a hospital stay.
Staff found a reduction of up to 60 per cent in cases of pneumonia in those wards over a six-month period and beds are now tilted by 30 degrees across the whole of the hospital. Raising the patient's head slightly means any fluid in their lungs collects at the bottom rather than covering the whole lung.
Head of patient safety Hester Wain said: "We started doing work around it in October 2010 and, first of all, we were looking at how many people were having pneumonia in hospital.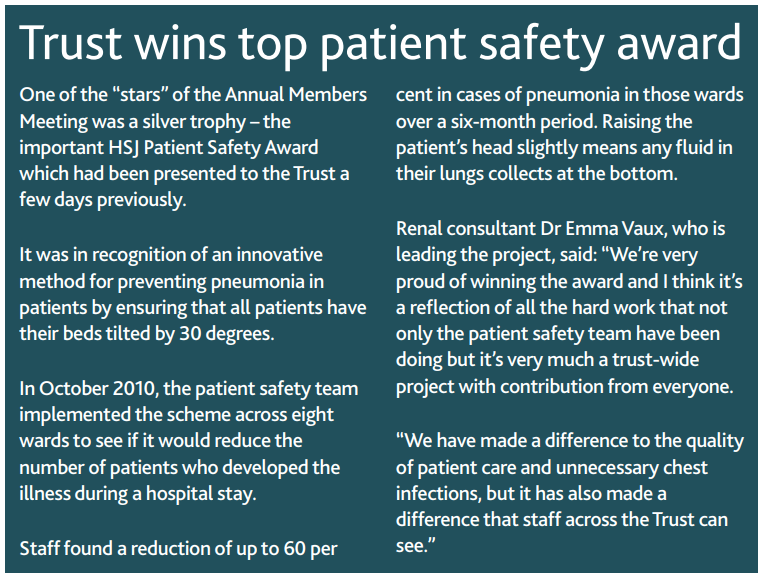 More resources: http://www.surgicalcriticalcare.net/Guidelines/head%20of%20bed%20elevation.pdf