Two simple, easy and cheap methods of inclining a bed.

Method 1) Your local lumber store has 2" X 8" planks (so called). The real size is 1& 1/2" X 7& 1/2". Have them cut you 7& 1/2" squares. You will need 8 to raise each leg at the head by 6".
It's OK to start with a single block and build to make the transition to sleeping inclined easier.
Add some wood glue between each layer to make it more stable. You may want to glue some carpet or felt to the wood, if you have a wooden flloor.

Most timber merchants will gladly let you have offcuts for free. So you can ask for thicker blocks of wood and please tell them why you need it and help us to spread the IBT message.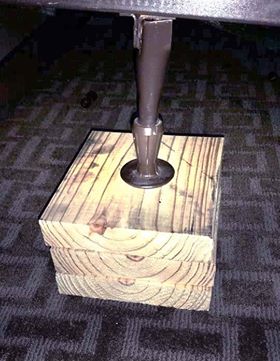 Method 2) Measure your bed leg thickness / diameter. Cut two lengths of thick wall PVC pipe that fits over your bed legs at a 5 degree angle, adding the required additional height plus the length of your existing bed legs.
Have someone strong enough to raise your bed, while you slip the pipes / tubes over the bedframe legs and add a furniture coaster underneath to prevent floors and carpet damage.
If required, insert fabric as a packer into the pipe to help stabilize it at a good angle.
For both methods add additional support to any other legs that are at the midpoint / centre of the bed or to the frame itself if needed.