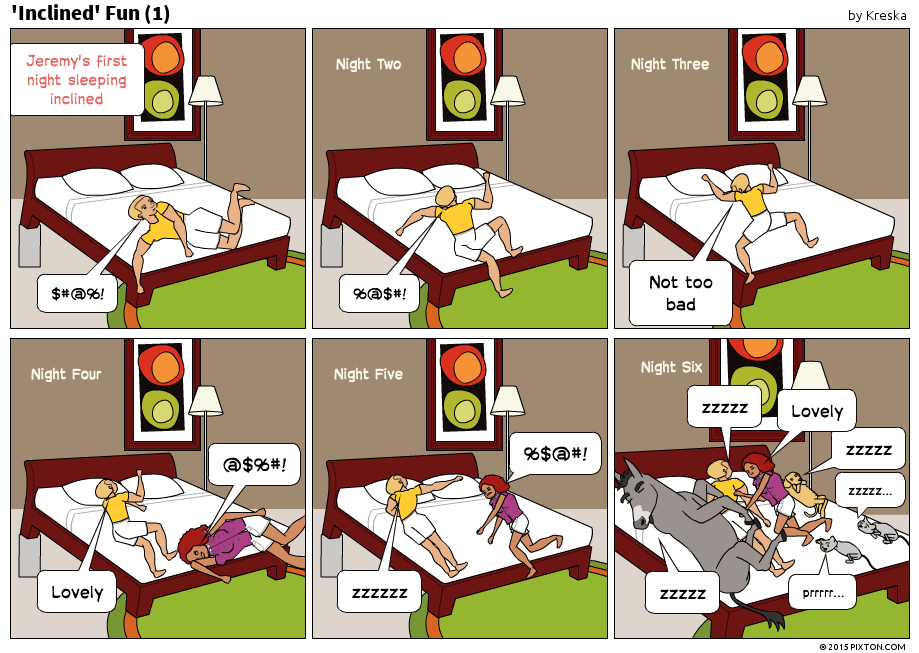 When your bed is first inclined it's going to feel completely different to how you slept before.
Your weight for example is spread differently across the mattress. Your spine will be placed under gentle traction. Hands and feet will feel warmer in bed. Your body temperature will find a new level of warmth. You may feel a tendency to slip down the bed initially but this soon passes.
You may hear your heart beating in your ears and within 10 minutes becoming barely audible. Your sinuses will most likely drain and you or your partner will probably realise that snoring becomes less of a problem. It will beat 10-12 times less on IBT while you sleep.
Your body temperature will not dip by 2 degrees around 3.30 am, which is normal (or is it?) on a flat bed. Your breathing will become deeper and more oxygen will enter your blood stream to help restore muscle bone and tissue cells.
You might find that you visit the bathroom less frequently and on waking your bowel movements become more reliable and regular. If you experience diarrhoea frequently, you may find your stools firming up due to significant changes in your digestive system.
If you suffer from acid reflux, you will find that IBT prevents it by keeping your food and digestive enzymes in your stomach where they belong. If you are a diabetic, the evidence is clear that sugar / glucose levels fall significantly while sleeping inclined. So please be aware of the need to keep records of changes and consult your Doctor to advise and change medication levels to prevent sugar levels from falling below the safety margins.
Inclined Bed Therapy, while it is undoubtedly an overnight health fix, it can take up to 4 months to realise significant health improvements are taking place in more serious conditions. We tend to overlook important changes in our health and well-being and focus on niggling aches and pains. This is how our bodies are programmed to keep us safe. How many times have you complained about feeling better?
The first two weeks can prove challenging. This has often been reported as a threshold to cross by many people. And I guess this is the time when IBT is more likely to be rejected and the blocks are removed. But after removing those blocks from under the head end of your bed, you should immediately realise the distinct differences between sleeping flat and inclined and most likely put the blocks back.While reverting back to flat occasionally, usually when staying away from home, is a good experiment to help you determine what is happening to your circulation and body. Continuation and perseverance with IBT is essential to achieve your health and fitness goals.
Its entirely your choice, whether you explore the possibilities with IBT or not. You can either stay with IBT for the long haul where anything is possible. Or you can always revert back to flat bed syndrome.
If you decide that IBT is for you and your family. Please keep a record on your computer / mobile phone, noting down all observations with a date when first noticed. This will prove immensely important in monitoring your health and when your happy to, please add a testimonial and share your experience.
Kind regards
Andrew K Fletcher