What type of blocks are safe for Inclined Bed Therapy
Suitable Blocks / Bed Raisers for Inclined Bed Therapy
These strong plastic cone shaped bed / furniture raisers / risers are excellent for tilting the bed for Inclined Bed Therapy. They are supplied in a box of 4 so you have a spare set for when you are travelling or staying with family and friends.
Although they measure slightly less than six inches it is not crytical to be exact and as most bed legs are set slightly in from the edge of the bed, the angle is within the range. If additional height is required, the risers can be placed on to another board or book.
They pack inside each other and are fairly lightweight so can easily fit inside a flight bag or suitcase and do not take up much room considering they are hollow.
Far easier to install than wooden blocks and inexpensive. Check Ebay for a bargain.
The blocks should measure 6 inches minimum from base to top as shown.
If you need to raise your bed higher, then simply put one cone inside the other and this will add 1-2 more inches depending where your bed legs are situated.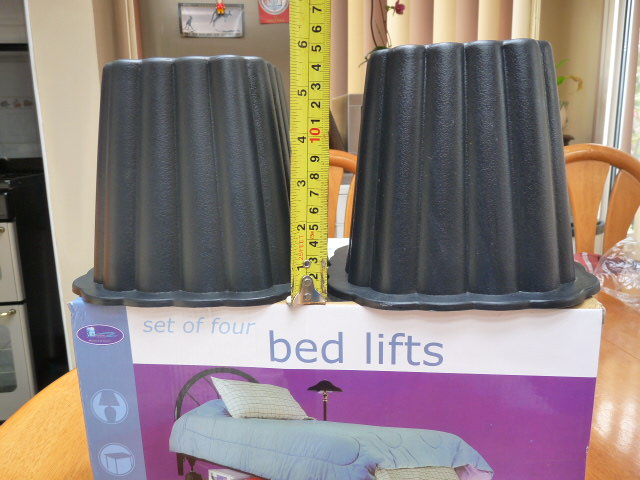 http://www.andrewkfletcher.com/images/images/bed_raisers_ibt_1.JPG
Add a comment
How to convert a wood framed bed for Inclined Bed Therapy (IBT)
Dim lights Embed Embed this video on your site
This video was created to illustrate how a wooden framed bed can be easily converted for inclined bed therapy at very little cost and effort.
Total cost:
It took approximately 5 hours to convert our Kingsize Pine bed.
We purchased a solid used bed from Ebay for £150.00 and purchased one piece of timber from the local builders / timber yard for the conversion for £11.00.
If you or your partner are comfortable with DIY, this guide should provide you with sufficient details to modify your own bed for inclined bed therapy or IBT as it is now known by many thousands of people throughout the world.
Chances are, You are probably watching this video because you already know about my exciting discovery and research into posture health and circulation, and have probably asked the question about how your own bed can be modified to permanently accommodate sleeping on five degree head up angle.
If you feel this is too complicated for you to tackle, you can still show this guide to someone who can get the job done for you.
If you have just surfed in, Inclined Bed Therapy or (IBT) More detailed information about this exciting discovery can be found here at http://inclinedbedtherapy.com and this subject is certainly worth a read to understand how simply tilting a bed has transformed the lives of many people with serious and supposedly irreversible medical conditions.
Be sure also to check out my other videos on this topic.
History tells us that we have not always slept on our perfectly flat beds. In fact the Pharaohs or ancient Egyptians slept with their beds raised at the head end by 6 inches or 15 cm's. Why? http://www.touregypt.net/images/touregypt/furniture8.jpg
Reading through the digitised Bible, wherever bed is mentioned it frequently associates bedrest with illness and death. One paragraph states "take up thy bed and walk" with reference to paralysis. The Tudor period in Europe was plagued with the sweating sickness, which killed millions who fell asleep never to awaken. Two guards were placed at the side of a sick persons bed to ensure they remained awake and presumably sitting rather than laying flat and this simple act was used to prevent people from dying of this terrible affliction.  
Please remember to share this video to help get the word out about Inclined Bed Therapy.
Your comments and questions are welcome and appreciated. Thanks for watching
Andrew K Fletcher
Add a comment
John Cann 69 Spinal Cord Injured Using IBT Featured in Sunday Independent
 Miracle of medicine


ON THE MEND: John Cann is standing again Pictures: Steve Porter

 
 

John, a former commercial diver who served in the Army, was keen on rugby and canoeing until the operation left him paralysed.

He was told that however much movement he had after two years, there would be no further improvement that was until he tried the bed-raising technique.

But as the months went on, he noticed pains travelling through his legs and realised that it was the nerves regenerating.

After all this pain, I noticed I was getting more and more feeling back and found I could flex muscles I had not been able to flex before, said John.

The only things that do not hurt are my ankles, and my right knee is not very strong. I can stand, but only using my standing frame at the moment.

Andrew has now arranged for John to use a parachute harness that will fully support his legs, and a rail is being fitted to a wall at his home so that he can move around on his feet more often. Andrew said that many people were sceptical about the effects of the raised bed method and it had not worked for everyone.

But he added: If it can do that for John, what cant it do for the rest of us I say go out in the garden, grab a couple of house bricks and give it a go.

 

JUST by raising their beds with a few blocks of wood, or some house bricks, scores of spinal injury sufferers say that they have noticed a dramatic improvement in their conditions. But how can such a simple method seem to succeed where conventional medicine has failed Chief reporter ANTHONY ABBOTT looks at the apparent phenomenon of the Naturesway Sleep System:

DELIGHTED John Cann is standing on his own two feet again after eight years of paralysis in his legs and he is convinced its all down to a simple bed treatment.

John had no feeling in his legs for eight years after an operation went wrong, but following two years of treatment using a raised bed method pioneered in the West Country, he has got the feelings back in his legs and now is determined to walk.

The 69-year-old is amazed at the effect the simple treatment has had over the past two years and has urged other people to try it for themselves.

I raised the bed and that night I had no pain at all, he said. I had been going until about three in the morning and then had to have an injection to get back to sleep.

Now I make a point of standing up with my standing frame every day while I watch the news in the evenings to build up my strength. I never give up and now I have set myself the next aim to go for. I am going to walk unaided. I may need cr-utches and then sticks, but I am going to walk again.

Former engineer Andrew Fletcher, who invented the Naturesway Sleep System six years ago, said that he was astonished when he visited John at his home in Gunnislake to see him standing.

He says that many people have benefitted from the simple treatment of raising the head of their beds a few inches, but in the case of John it had been very dramatic.

It was just incredible, said Andrew. I was nearly in tears. Here was a man who was told there was nothing that could be done for him; had felt nothing for eight years and then in the last two years has got feeling back in his legs.



Add a comment
John Cann Who Has a Spinal Cord Injury Walks after 11 Years Of Paralysis on Carlton Television News
Inclined Bed Therapy (IBT) has helped many more people with spinal cord injuries since this video was first shown on the local News. But it is not specific to Spinal cord injuries and has helped people with multiple sclerosis, ccsvi, parkinson's disease, cerebral palsy, psoriasis,varicose veins, oedema,leg ulcer, poor circulation, and many more conditions during 17 years of research.
On the forum, you will find evidence to support this statement from people who have simply tilted their beds.
John Cann Walks after 11 years of paralysis using a simple non-invasive free therapy, discovered by Andrew K Fletcher, who has shown beyond any shadow of doubt that gravity plays a vital roll in the circulation of fluids and that posture in relation to the constant direction of gravity is of paramount importance when restoring function to all neurological and non-neurological damage.
On Saturday April 15th 2000, John obtained the timber for parallel bars to be erected at his home in Cornwall, On Sunday I went to John's home and completed the job, for tomorrow was to be a momentous occasion indeed.

John was left paralysed, in 1990, when surgery to his spine went wrong. He was told that after two years any chance of further recovery would be highly unlikely and for the next six years he experienced little if any change in his condition.

Dim lights Embed Embed this video on your site
Add a comment
MEDICAL BREAKTHROUGH: Andrew Fletcher's Bed Treatment To Be Investigated
MEDICAL BREAKTHROUGH: Andrew Fletcher's bed treatment will now be fully investigated. Picture: Steve Porter




Of the many people who have enjoyed improvements in their health using the gravity bed, none was more dramatic than the case of 69-year-old John Cann.

The former commercial diver had no feeling in his legs for eight years after an operation went wrong and left him paralysed.

He was told that, however much movement he had after two years, there would be no further improvement, but then he tried raising his bed and the results were spectacular.

When John, from Gunnislake, was first featured in the Indy last April he had got the feeling back in his legs and was able to stand.

But now, just five months on, a delighted John is walking further with the help of parallel bars and is determined to get on to crutches as soon as possible.

He is getting some specially made boots to support his ankles and says he has never felt better.

He said: 'I am getting stronger and stronger every day and the only thing that's holding me back now is my ankles and my knees.'

John, who lives alone, is noticing more and more feeling in his legs as the nerves recover and his long term aim is to walk unaided.




Ministers pledge on bed project

HEALTH ministers have pledged to look into the benefits of a simple bed treatment, pioneered by a West Country man, which is having a dramatic effect on spinal injury and multiple sclerosis sufferers,writes ANTHONY ABBOTT.

It marks a real breakthrough in Andrew Fletcher's five-year battle to gain official recognition for the Naturesway Sleep System that appears to be succeeding where conventional medicine has failed.

Thanks to the backing of Torbay MP Adrian Sanders, Andrew, who lives in Torquay, has received a letter from the Parliamentary Under Secretary of State at the Department of Health, Lord Philip Hunt, saying officials will examine the benefits of the gravity bed.

 

The Minister said that the Government was always interested in developments that might lead to improved care for patients.

Andrew said: 'This is long overdue. It is absolutely incredible to me to think that there is something here that doesn't cost anything and I can't understand for the life of me why everyone isn't doing it.'

 First revealed in theSunday Independentthree years ago, the Naturesway Sleep System involves raising the bed a few inches with blocks of wood or ordinary house bricks.

The discovery followed several experiments by Andrew who found there was a circuit which made water carrying salt and nutrients flow upwards. He wondered how gravity and the flow of water would affect the human body.

Andrew set up a controlled study on the Internet and scores of sufferers around the world found their condition improved with the treatment.

Original Article:

Add a comment