Miracle of medicine

JUST by raising their beds with a few blocks of wood, or some house bricks, scores of spinal injury sufferers say that they have noticed a dramatic improvement in their conditions. But how can such a simple method seem to succeed where conventional medicine has failed Chief reporter ANTHONY ABBOTT looks at the apparent phenomenon of the Naturesway Sleep System: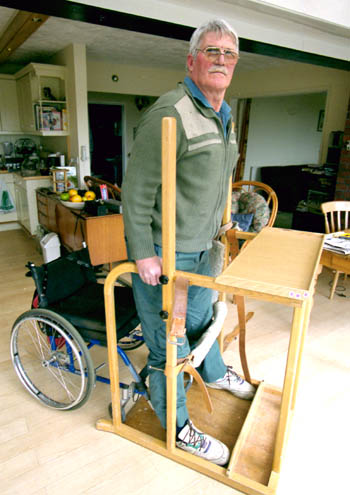 DELIGHTED John Cann is standing on his own two feet again after eight years of paralysis in his legs and he is convinced its all down to a simple bed treatment.
John had no feeling in his legs for eight years after an operation went wrong, but following two years of treatment using a raised bed method pioneered in the West Country, he has got the feelings back in his legs and now is determined to walk.
The 69-year-old is amazed at the effect the simple treatment has had over the past two years and has urged other people to try it for themselves.I raised the bed and that night I had no pain at all, he said. I had been going until about three in the morning and then had to have an injection to get back to sleep. Now I make a point of standing up with my standing frame every day while I watch the news in the evenings to build up my strength. I never give up and now I have set myself the next aim to go for. I am going to walk unaided. I may need cr-utches and then sticks, but I am going to walk again.
Former engineer Andrew Fletcher, who invented the Naturesway Sleep System six years ago, said that he was astonished when he visited John at his home in Gunnislake to see him standing. He says that many people have benefitted from the simple treatment of raising the head of their beds a few inches, but in the case of John it had been very dramatic. It was just incredible, said Andrew. I was nearly in tears. Here was a man who was told there was nothing that could be done for him; had felt nothing for eight years and then in the last two years has got feeling back in his legs. John, a former commercial diver who served in the Army, was keen on rugby and canoeing until the operation left him paralysed. He was told that however much movement he had after two years, there would be no further improvement that was until he tried the bed-raising technique. But as the months went on, he noticed pains travelling through his legs and realised that it was the nerves regenerating. After all this pain, I noticed I was getting more and more feeling back and found I could flex muscles I had not been able to flex before, said John. The only things that do not hurt are my ankles, and my right knee is not very strong. I can stand, but only using my standing frame at the moment. Andrew has now arranged for John to use a parachute harness that will fully support his legs, and a rail is being fitted to a wall at his home so that he can move around on his feet more often. Andrew said that many people were sceptical about the effects of the raised bed method and it had not worked for everyone. But he added: If it can do that for John, what cant it do for the rest of us I say go out in the garden, grab a couple of house bricks and give it a go.
ON THE MEND: John Cann is standing again Pictures: Steve Porter