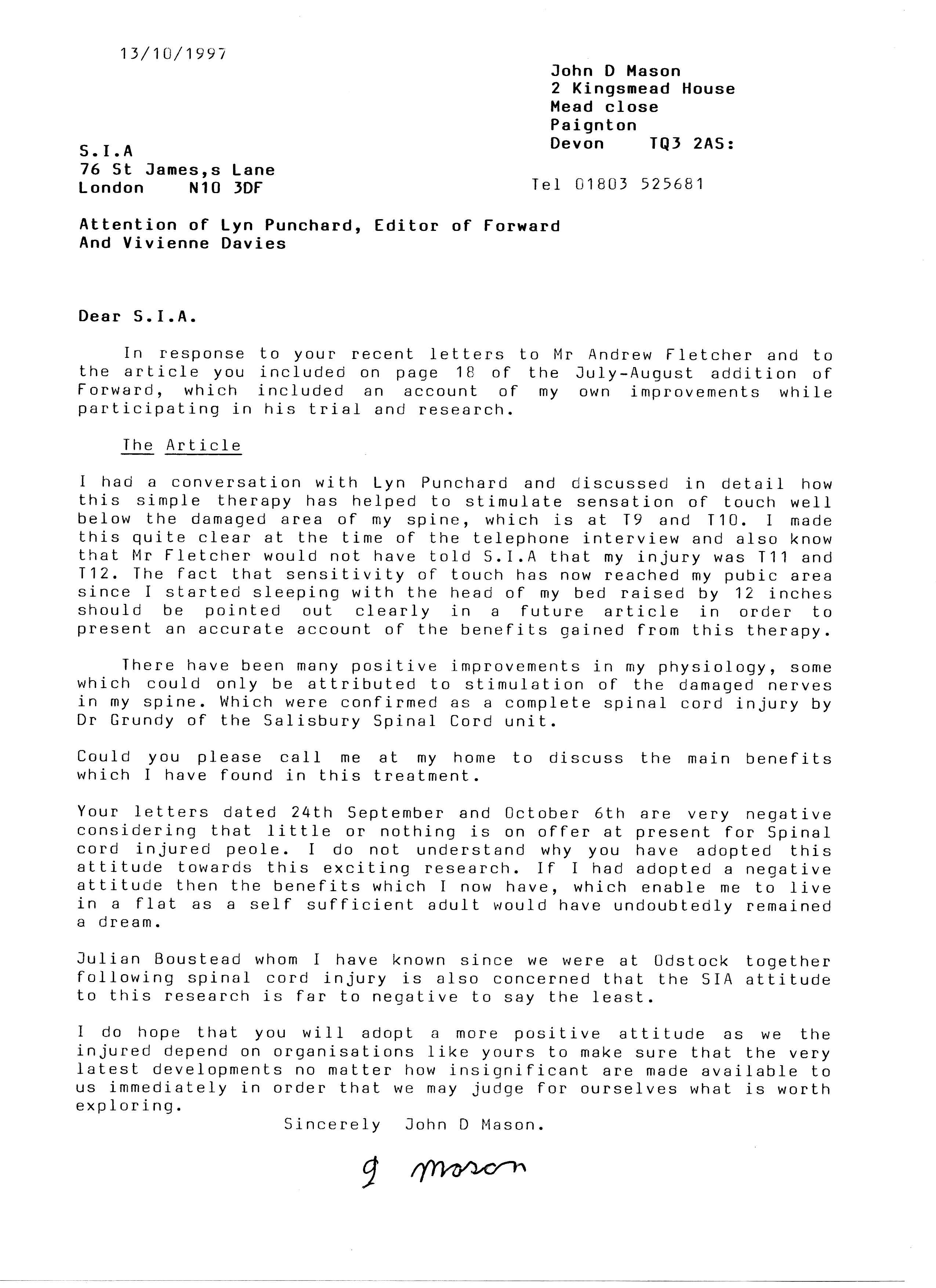 13/10/1997
S.I.A (Spinal Cord Injuries Association) https://www.spinal.co.uk/
76 St James,s Lane
London N10 3DF
Letter From John D Mason (T9 and T10. )


Attention of Lyn Punchard, Editor of Forward And Vivienne Davies
Dear S.I.A.
In response to your recent letters to Mr Andrew Fletcher and to the article you included on page 18 of the July-August addition of Forward, my own improvements while which included an account of participating in his trial and research.

The Article

I had a conversation with Lyn Punchard and discussed in detail how this simple therapy has helped to stimulate sensation of touch well below the damaged area of my spine, which is at T9 and T10.
I made this quite clear at the time of the telephone interview and also know that Mr Fletcher would not have told S.I.A that my injury was T11 and T12. The fact that sensitivity of touch has now reached my pubic area since I started sleeping with the head of my bed raised by 12 inches should be pointed out clearly in a future article in order to present an accurate account of the benefits gained from this therapy.
There have been many positive improvements in my physiology, some which could only be attributed to stimulation of the damaged nerves in my spine. Which were confirmed as a complete spinal cord injury by Dr Grundy of the Salisbury Spinal Cord unit.

Could you please call me at my home which I have found in this treatment to discuss the main benefits?
Your letters dated 24th September and October 6th are very negative considering that little or nothing is on offer for spinalcord injured people! I do not understand why you have adopted this attitude towards this exciting research. If I had adopted a negative attitude then the benefits which I now have, which enable me to live in a flat as a self sufficient adult would undoubtedly have remained a dream.

Julian Boustead whom I have known since we were at Odstock together following spinal cord injury is also concerned that the SIA attitude to this research is far to negative to say the least.
I do hope that you will adopt a more positive attitude as we the injured depend on organisations like yours to make sure that the very latest developments no matter how insignificant are made available to us immediately in order that we may judge for ourselves what is worth exploring.
Sincerely John D Mason.