Sweet IBT dreams of cure for people with multiple sclerosis MS
Details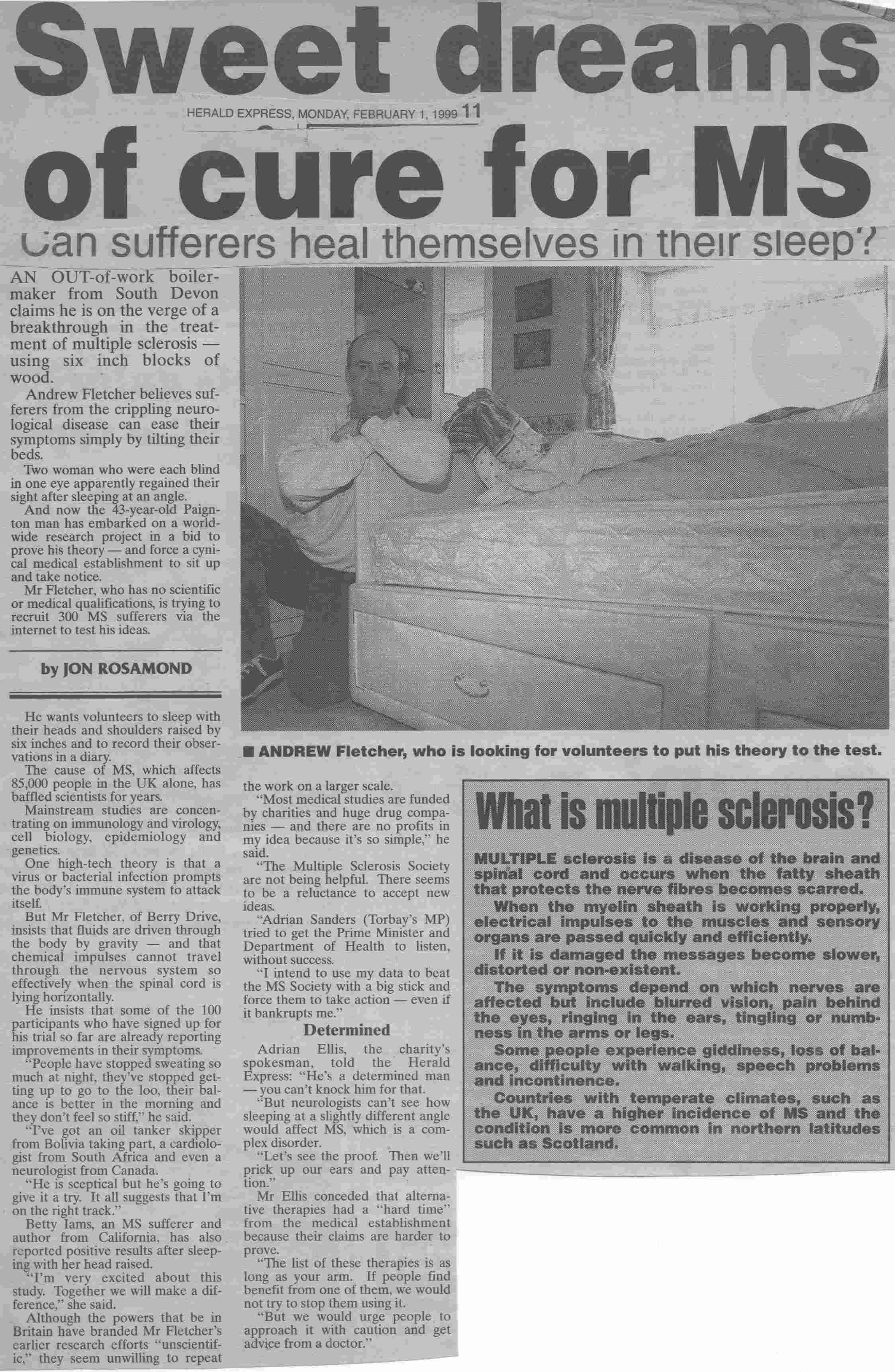 HERALD EXPRESS, MONDAY, FEBRUARY 1, 1999 11
Sweet dreams of cure for MS
Can sufferers heal themselves in their sieep?
A former boiler-maker from South Devon claims he is on the verge of a breakthrough in the treatment of multiple sclerosis -using six inch blocks of wood.
Andrew Fletcher believes sufferers from the crippling neurological disease can ease their symptoms simply by tilting their beds.
Two woman who were each blind in one eye apparently regained their sight after sleeping at an angle.
And now the 43-year-old Paignton man has embarked on a worldwide research project in a bid to prove his theory — and force a cynical medical establishment to sit up and take notice.
Mr Fletcher, who has no scientific or medical qualifications, is trying to recruit 300 MS sufferers via the internet to test his ideas.
He wants volunteers to sleep with their heads and shoulders raised by six inches and to record their observations in a diary.
The cause of MS, which affects 85,000 people in the UK alone, has baffled scientists for years.
Mainstream studies are concentrating on immunology and virology, cell biology, epidemiology and genetics. One high-tech theory is that a virus or bacterial infection prompts the body's immune system to attack itself.
But Mr Fletcher, of Berry Drive, insists that fluids are driven through the body by gravity — and that chemical impulses cannot travel through the nervous system so effectively when the spinal cord is lying horizontally.
He insists that some of the 100 participants who have signed up for his trial so far are already reporting improvements in their symptoms.
"People have stopped sweating so much at night, they've stopped getting up to go to the loo, their balance is better in the morning and they don't feel so stiff," he said.
"I've got an oil tanker skipper from Bolivia taking part, a cardiologist from South Africa and even a neurologist from Canada--"He is sceptical but he's going to give it a try. It all suggests that I'm on the right track."
Betty lams, an MS sufferer and author from California, has also reported positive results after sleeping with her head raised.
"I'm very excited about this study. Together we will make a difference," she said.
Although the powers that be in Britain have branded Mr Fletcher's earlier research efforts "unscientific," they seem unwilling to repeat the work on a larger scale.
"Most medical studies are funded by charities and huge drug companies — and there are no profits in my idea because it's so simple," he said.
"The Multiple Sclerosis Society are not being helpful. There seems to be a reluctance to accept new ideas.
"Adrian Sanders (Torbay's MP) tried to get the Prime Minister and Department of Health to listen, without success.
"I intend to use my data to beat the MS Society with a big stick and force them to take action — even if it bankrupts me."
Determined
Adrian Ellis, the charity's spokesman, told the Herald Express: "He's a determined man — you can't knock him for that.
"But neurologists can't see how sleeping at a slightly different angle would affect MS, which is a complex disorder.
"Let's see the proof. Then we'll prick up our ears and pay attention."
Mr Ellis conceded that alternative therapies had a "hard time" from the medical establishment because their claims are harder to prove.
"The list of these therapies is as long as your arm. If people find benefit from one of them, we would not try to stop them using it.
"But we would urge people to approach it with caution and get advice from a doctor."
What is multiple sclerosis?
MULTIPLE sclerosis is a> disease of the brain and spinal cord and occurs when the fatty sheath that protects the nerve fibres becomes scarred.
When the myelin sheath is working properly, electrical impulses to the muscles and sensory organs are passed quickly and efficiently.
If it is damaged the messages become slower, distorted or non-existent.
The symptoms depend on which nerves are affected but include blurred vision, pain behind the eyes, ringing in the ears, tingling or numbness in the arms or legs.
Some people experience giddiness, loss of balance, difficulty with walking, speech problems and incontinence.
Countries with temperate climates, such as the UK, have a higher incidence of MS and the condition is more common in northern latitudes such as Scotland.
ANDREW Fletcher, who is looking for volunteers to put his theory to the test.
by JON ROSAMOND